Langtons Bar & Restaurant - Kilkenny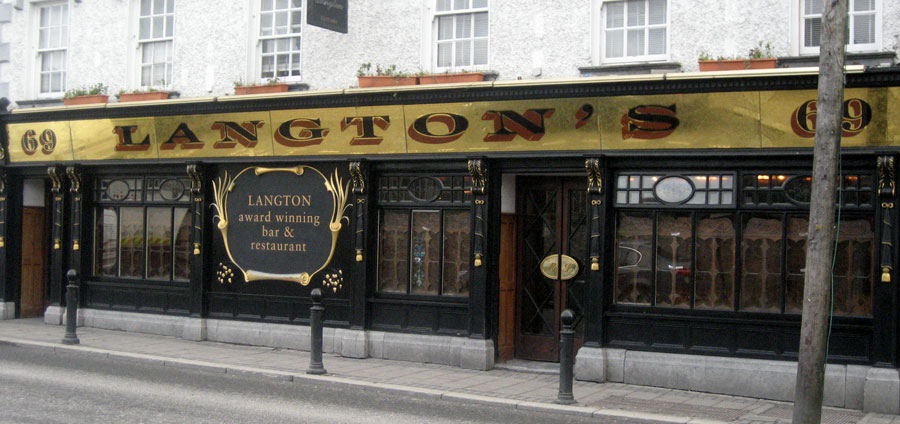 While my other half Joanne rests from day of sightseeing in Wexford and Waterford I thought I would do a small blog post. This New Year's Eve we are down in Kilkenny, I have taken Joanne down here to celebrate her birthday. Naturally we are staying in our favorite place in Ireland
Lawcus Farm Guesthouse
. We arrived down yesterday evening just after 4 pm, it was the only day I hadn't fully planned out, as today I had sightseeing on our itinerary and a meal in Campagne. When we dropped our stuff off at Lawcus ( I will be doing an updated review on this ) we decided to head back into Kilkenny city for some food. We wandered around for a while, first stopping in to Dunnes to pick up a new food processor. I have been looking to get one for a while now as it really speeds up food preparation, Jamie Oliver's recipes (the fast ones at least) all require one. Joanne spotted one in Dunnes with her mum Saturday down from 60 euro to 29 euro, so her mum got one as well as one for her
sister
Karen. So with our food processor in tow, we went about getting some food, we popped into Kytelers Inn, but I didn't feel in the mood for there so I suggested we walk up toward Langtons.
I have always liked Langtons, I suppose its down to the fact that when we would go to Kilkenny on day trips as a child with my grandfather ( a Kilkenny man ) we would always end up in Langtons after mass on the Sunday be it for lunch or a pint( pint of Cidona for my brother and myself ). We took a look at the menu outside and it looked exactly what we were looking for, so we ducked in. The last time I was inside was maybe 15 years ago and the front bar area still remains the same, its like stepping back in time, a time me and my bro would get a chocolate bar and £1 coin off my grandfather after mass. We strolled down through the back in to the restaurant, and we were seated immediately, the place was busy yet they still had seats so we didn't need a booking. We were seated just near the door but only moments later the door manager asked would we like our change seats, as there might be a draft. Now for me that is a nice touch and shows you are caring for your customer, making sure they are happy as possible. Not long after receiving our menus we had ordered, I stuck with what I had in Marco Polo last weekend, caesar salad for starters and steak for mains. Just before our starters arrived out a huge basket of bread was placed on our table, I LOVE THAT! I know it might sound stupid but I want something to nibble away at while I am waiting, it was a nice fresh soda bread.
Here is my caesar salad, you know what it may not be much to look at but it was gorgeous, big hunks of bacon, croutons galore, parmesan shavings and a big bowl of dressing. Simple but tasty, and immensely better than
last weekend
.
Next up my steak! It was perfectly cooked, I have been going for medium rare a lot lately and it was bang on. It was a massive plate of food, cheesy cauliflower, onion rings, chantenay carrots, roast potato, mash potato and side of pepper sauce. This meal was exactly what I was looking for, simple, tasty and filling food. Langtons aswell still lives up to what it did for me as a kid, its a bit like hotel food but its still good, run by extremely friendly people. It has such a nice atmosphere, and despite it being busy you can still talk to each other with out having to raise your voice. Overall Langtons is still a lovely place to go and its all well priced, for 2 starters, 2 mains and 2 drinks we paid 50 euro.
Your can find Langtons here :
http://www.langtons.ie/
And here, http://goo.gl/maps/H1QYd:
Thanks for reading,
Will