Great Irish Bake Off Week 1 - Black Forest Cupcakes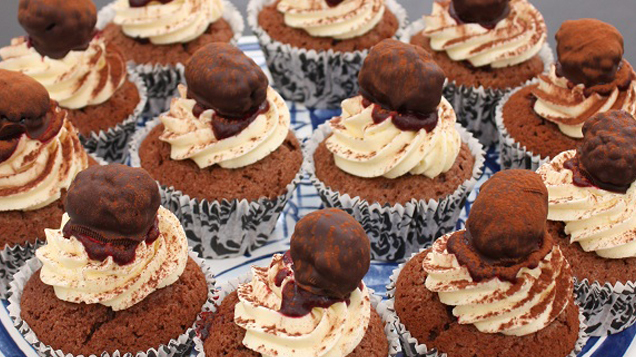 Heat oven to 180°C/160 fan/gas 4.

Beat together the butter and sugar until pale and creamy, then add the eggs, one at a time, s

lowly mixing through.

Sift in the flour and cocoa powder and mix until well combined. Place 12 cupcake cases in to a cupcake tin and spoon the mixture evenly in to all cases.

Bake for 15-20 minutes until a thin skewer inserted into the centre of the cupcake comes out

clean. Allow to cool for 1 hour.

Whisk both icing sugar and butter together, once whisked add the milk to loosen the icing

slightly. Set aside for piping.

In a hot pan melt a knob of butter adding the blackberries and icing powder. Bring to the boil and flambé with the crème de cassis, allowing to reduce slightly. Cool and set aside.

With a sharp knife cut out the top of the cup cakes and drizzle with some Crème de Cassis.

Insert a blackberry with some sauce in to each cupcake.

Pipe the butter cream icing on to each cupcake.

Melt your chocolate over a saucepan of boiling water.

Pipe the chocolate over each cupcake.