Great Irish Bake Off Week 2 - Profiterole Tart with Chestnut Mousse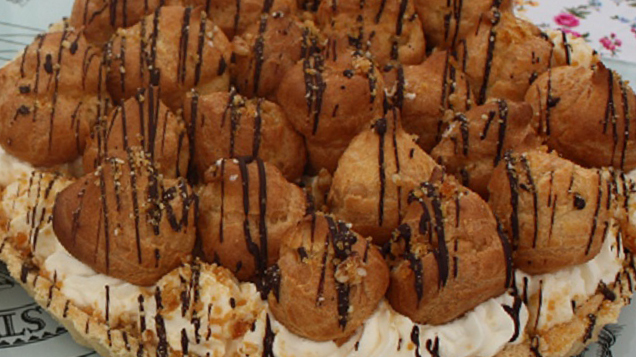 Profiterole Tart and Roscoff Sweet Onion Tart
1.5 Litre of double cream
1 tbsp pureed chestnut paste
Sift the flour and salt, rubbing in the butter until it resembles breadcrumbs.
Make a well in the centre adding the sugar and the eggs, mixing well.
Refrigerate until needed to firm up the pastry.
Boil milk, water, salt and butter and remove from heat.
Sieve flour and stirring with a wooden spoon.
Put pan back on heat and stir until mixture comes away from the pan (2 mins ).
Pipe choux paste on greaseproof lined tray.
In a saucepan, bring the sugar and water to a boil.
Cook without stirring until the mixture turns golden brown.
Remove from the heat and gradually add the cream and salt.
Beware of splashing. Bring to a boil and simmer until the caramel is smooth.
Add the butter and stir until melted.
Transfer to a bowl and let cool completely.
Bake the tart case for 15 mins blind at 180c, remove from the oven and take out baking beans.
Bake the tart case for 15-20 mins more until it's crisp.
Whip cream and fold in to chestnut puree for piping.
Whip cream for decoration.
Toast the almonds until brown in a frying pan.
Layer the caramel on the base of tart shell.
Pipe cream over the caramel.
Pipe chestnut mouse in to each profiterole and layer on to tart.
Drizzle in chocolate sauce and decorate with almonds and icing sugar.