Week 5 - Kahlua Chocolate Bundt Cake with Honeycomb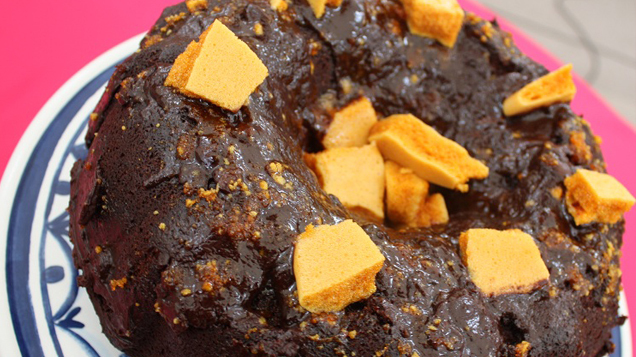 1 ½ teaspoons baking soda
126g butter, softened but still cool
2 teaspoons vanilla extract
240g 70% chocolate, chopped
2 tsp bicarbonate of soda
Preheat oven to 180°C/160°C Fan/Gas 4. Grease Bundt pan.

Melt Chocolate over medium-low heat. Set aside.

Sieve flour, cocoa, baking soda, and salt in a bowl and set aside.

Mix well 1 cup of Kahlua and 1 cup of Sour Cream and set aside.

Cream together butter and brown sugar until light and fluffy.

Add the eggs to the butter mixture one at a time, beating well after each.

Add the vanilla and melted chocolate and stir to mix.

Add the flour mixture, alternating with the sour cream-Kahlua mixture, to the egg-butter mixture. Stir until the dry ingredients are just moist and blended. Do not over mix.

Stir in boiling water and mix until blended. Gently stir in chocolate chips.

Pour the batter into prepared Bundt pan, smoothing the top to even out the batter. Bake for 55 to 60 minutes, until the cake is firm to the touch and a skewer inserted into the centre comes out with just a few crumbs clinging to it.

Remove from the oven and cool the cake for 30 minutes in the pan. Carefully turn the cake out onto a rack and cool completely.

Stir the ganache well before slowly drizzling about half of the chocolate over the cake.

Refrigerate the cake for about 5 minutes before repeating with the remaining glaze.

Refrigerate cake for about 5 minutes to set the glaze.
Bring cream to a boil in a small saucepan over medium heat.

Pour cream over the chocolate and let it sit without stirring for two minutes before mixing vigorously with a small spatula.

Once the chocolate becomes smooth and glossy, add 1 tablespoon Kahlua and mix until smooth.

Let ganache sit for 10 minutes to cool slightly.
Grease a 20cm square tin with the butter. Mix the caster sugar and syrup in a deep saucepan and stir over a gentle heat until the sugar has melted. Try not to let the mixture bubble until the sugar grains have disappeared.

Once completely melted, turn up the heat a little and simmer until you have an amber coloured caramel.

Quickly as you can turn off the heat, tip in the bicarbonate and beat in with a wooden spoon until it has all disappeared and the mixture is foaming. Scrape into the tin immediately but be careful as the mixture will be very hot.

The mixture will continue bubbling in the tin, simply leave it and in about 1hr-30mins the honeycomb will be hard and ready to crumble or snap into chunks.