Kerststol or Stollen - The Cook's Belly Returns
It has been quite a while since I blogged a recipe on The Cook's Belly so I hope I still remember how to do this. First things first hello there my neglected readers l have been too quiet for far too long.
I have been doing some teaching, which you will know about if you stay in touch with my Facebook page and I also got married to my best friend Joanne in May in Clonabreany House; so these past 10 months have been a little crazy. Although with the Winter months looming and me having some time back on my hands in the evening I finally have a chance to blog again. It also just so happened last week Lidl got in touch with me and asked would I like to try out their new baking products for Christmas. Naturally I said yes please and thought this is great as I knew this would whoop me in to baking and blogging again. Below are some of the products they sent me on, quite an array of ingredients to test and try out for the Christmas period which is after all only 79 days away.
Myself and Joanne headed to Limerick this weekend so all my baking would be using my parent's temperamental oven, it has a mind of its own however what follows turned out well. On the train down
Friday evening with my test ingredients packed, I had a brain wave Lidl = Germany and what more suits the ingredients I received than the German Christmas bread loaf called Stollen. I love Stollen, I remember when Lidl first came to Limerick my dad would always buy Stollen at Christmas time as 1) it reminded him of home as the Dutch love Stollen and 2) it had our favourite ingredient ( note Karen my sister in law over
@LovelyGirlieBits
despises the stuff) MARZIPAN.
I now needed a recipe so I searched my usual online resources and bingo! I landed on my favourite Dutch baking blog by Ramona at www.dutchiebaking.com. Ramona's blog is one of my favourites and she always has the nicest of recipes. So rather than your usual Stollen Ramona has a fantastic recipe which I would like to share with you below adapted from the great Dutch baker Cees Holtkamp's repertoire (Cees is my Dutch baking hero check out my blog here). It is the Dutch version of Stollen, called Kerststol. I hope you love this recipe as much as my whole family did.
Ingredients

Filling:
300g raisins
100g ground almonds
100g glace cherries
pinch of nutmeg
pinch of cinnamon
pinch of white pepper
1 vanilla pod
25g orange juice

Dough:
8g instant yeast or 25g fresh yeast
100g cold (full-fat) milk
250g strong white flour
8g caster sugar
½ egg
5g lemon zest (about 1 lemon)
50g softened butter
6g salt
150g almond paste
1 pack of Lidl's KuchenGlasur icing
Method
1. Mix all the ingredients for the filling in a bowl. Cover bowl and leave to rest for 1 hour.
2. Dissolve the yeast in the milk.
3. For the dough, combine flour, milk, yeast, sugar, egg, salt and lemon zest and knead for 5 mins. Add the soft butter and knead for another 5 minutes.
4. Leave the dough to rest for 10 minutes. Knead the filling into the dough. Leave dough to rest for another 10 minutes in a warm spot. Shape the dough into an oval shape, then rest another 10 minutes.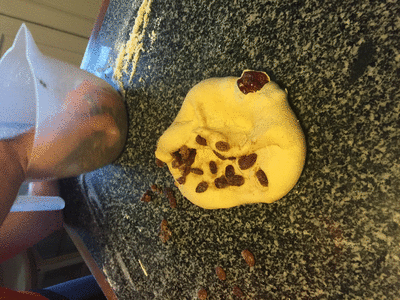 5. Roll dough out slightly, keeping the oval shape. Create a "furrow" for the almond paste by pressing a slim rolling pin into along the length of the middle of the oval shape. Roll your almond paste into a string to fit into the "furrow".
6. Place the almond paste into the "furrow" and lightly roll one side of the dough over the other. Place stollen on a baking tray, greased or lined with baking parchment, cover and leave to rest for 30 minutes in a warm spot. In the meanwhile, preheat your oven to 180C/350F.
7. Bake the stollen in the middle of the oven for 40 minutes. Once baked, remove the raisins that are too badly burnt for consumption (it happens) Leave to cool. Glaze with kuchenglasur.





















Will